Applications
There's no application too big or too small. Contact Systems by Storm today to have your needs analyzed. Below are just a few different applications that can help your business or organization save time and money, by optimizing your waste management efforts.

• grocery store
• apartment complex
• industrial
• institutional
• hospitals
• residential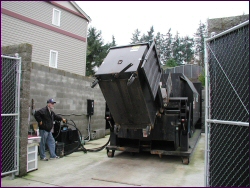 Financing Options
LEASE, BUY OR RENT. WHAT'S RIGHT FOR ME?

PURCHASE:
An outright purchase is the least expensive way to own a compactor because there is no interest.

LEASE:
Our leasing program gets people into the equipment when their Capital Budget doesnít allow for it.

WHEN DOES A LEASE MAKE SENSE?
A lease makes all the sense in the world when the savings the equipment offers can pay for the lease. Even if it doesnít save much during the lease period, you are getting the equipment for free because it pays for itself. After the lease period, the savings are all yours.

Example: Your equipment saves you $500.00 per month and the 60 month lease is $440.00 plus tax each month. Itís basically a wash while you enjoy the benefits of owning the equipment. With a 15 year life span you save $6,000.00 per year for the next 10 years. Do the math, take a nice vacation or two, and maybe buy a new car.

RENTAL PROGRAM
Rental units are perfect for people on a strict operating budget that need fixed monthly costs. Our Rental Program is affordable and offers full maintenance of all equipment. All you do is keep it clean and give Systems By Storm a call if there is a problem or question. Need training for new personnel? Just give us a call.